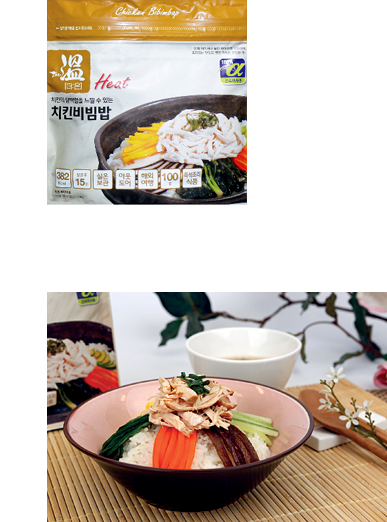 Characteristics
- You can experience the light taste of chicken.
- The taste is even greater as it only uses Korean chicken.
- Everyone can easily enjoy it owing to its simple cooking method.
- Its calories are lowered and its nutrients are increased for health of busy people.
- As hot water is unnecessary, it is much more convenient than other products.
- It is light and small suitable for leisure and travel.
Composition
Contents + Sesame-seed oil + Spoon + Deoxidizer
[The:On] Chicken Bibimbap Heat
Raw Ingredients & Contents

Dried rice 85.53%(Korea), chicken-flavored powder 10.49%[chicken-flavored pulp[chicken extract powder MR{chicken concentrate(chicken : Korea), purified salt}, purified salt, L-sodium glutamate(taste & flavor enhancer), white sugar, glucose hydrate(milk, soybean), dried seasoning chicken{chicken(Korea), seasoning(chicken liquid, soybean protein)}, galbi-flavored flake, egg flake(wheat)], mixed vegetable-B[{dried carrot(China), glucose}, dried onion (China), dried green onion{dried bok choy, glucose}], sesame-seed oil(imported)
Nutrients
Nutrients per serving (100g)
| | | | | | | | | | |
| --- | --- | --- | --- | --- | --- | --- | --- | --- | --- |
| Nutrients per servings | Calorie | Carbohydrate | Sugars | Protein | Fat | Saturated Fat | Trans Fat | Cholesterol | Cholesterol |
| One serving contains | 382kcal | 78g | 0g | 8g | 4g | 0.6g | 0g | 5mg 미만 | 1,100mg |
| Standard value of nutrients | | 24% | | 13% | 8% | 4% | | | 56% |
※ % Standard value of nutrients : Ratio of guideline daily amount