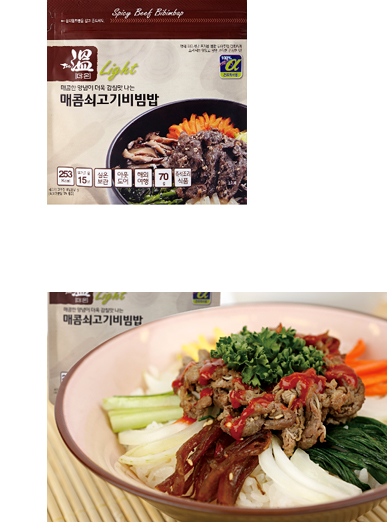 Characteristics
- It is more delicious with its spicy seasoning.
- It is light and small enough to be easily carried around, also suitable for leisure and travel.
- You can have nutritious meals regardless of time and place.
- Its calories are lowered and its nutrients are increased for health of busy people.
- You can have warm meals in about 15 minutes just after pouring hot water.
Composition
Contents + Sesame-seed oil + Spoon + Deoxidizer
[The:On] Spicy Beef Bibimbap Light
Raw Ingredients & Content

Dried rice 69.6%(Korea), beef mixed with hot pepper paste powder 21.7%{glucose(corn starch), pepper paste powder{pepper paste #2{flour(wheat : Australia, US), soybean paste #2(soybean, wheat), maltodextrin, refined salt}}, pepper paste powder[Korean wheat, pepper paste(wheat : Korea), pepper powder(Korea), malt grain syrup, salt, alcohol], beef powder[maltodextrin powder, beef liquid(beef : Australia), whey powder(milk),beef soup stock, purified salt], flavor base[maltodextrin, purified sugar, Disodium 5-Ribonucleotide, yeast extract powder, sodium succinate], yeast flavor base M, paprika pigment}, solid ingredients for mixing{beef-flavored flake[wheat flake-A[flour(wheat : US, Australia), isolated soy protein], solbitol, acid hydrolyzed soy sauce, seasoned soy sauce[soy sauce, beef bone extract, chicken extract, flavor powder-2(pork), soy sauce F], dried carrot(China), dried bokchoy(China), dried cabbage(China), fried egg[whole egg powder(egg : Korea), flour, D-solbitol liquid, 5-sodium inosinate, 5-sodium guanylate]], sesame oil(imported)
Nutrients
Nutrients per serving (70g)
| | | | | | | | | | |
| --- | --- | --- | --- | --- | --- | --- | --- | --- | --- |
| Nutrients per servings | Calorie | Carbohydrate | Sugars | Protein | Fat | Saturated Fat | Trans Fat | Cholesterol | Cholesterol |
| One serving contains | 253kcal | 55g | 8g | 6g | 1g | 0.2g | 0g | 11mg | 474mg |
| Standard value of nutrients | | 17% | | 11% | 2% | 1% | | 4% | 24% |
※ % Standard value of nutrients : Ratio of guideline daily amount