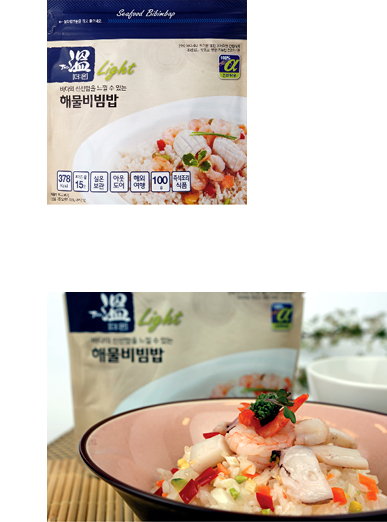 Characteristics
- You can taste the deep flavor of seafood, only made from fresh ingredients from the ocean.
- It is light and small enough to be easily carried around, also suitable for leisure and travel.
- You can have nutritious meals regardless of time and place.
- Its calories are lowered and its nutrients are increased for health of busy people.
- You can have warm meals in about 15 minutes just after pouring hot water.
Composition
Contents + Sesame-seed oil + Spoon + Deoxidizer
[The:On] Seafood Bibimbap Light
Raw Ingredients & Content

Dried rice 87.3%(Korea), seafood-flavored powder 9.53%[seafood-flavored pulp[L-sodium glutamate(taste & flavor enhancer), white sugar, purified salt, Jjamgppong powder{Jjamgppong base(China), purified salt}, squid extract MSNM(soybean, wheat, pork, shrimp)], seasoning shrimp-flavored flake{soybean protein, glucose, shrimp powder(shrimp : Korea), dextrin, soy bean sauce powder}, galbiflavoredbeef flake(beef, seasoning), freeze-dried squid-1, dried shrimp, egg flake L{starch, flour(wheat), solbitol powder, glycerin, whole egg powder}], mixed vegetable-B[{dried carrot(China), glucose}, dried onion(China), dried green onion{dried bokchoy, glucose}], sesame-seed oil(imported)
Nutrients
Nutrients per serving (100g)
| | | | | | | | | | |
| --- | --- | --- | --- | --- | --- | --- | --- | --- | --- |
| Nutrients per servings | Calorie | Carbohydrate | Sugars | Protein | Fat | Saturated Fat | Trans Fat | Cholesterol | Cholesterol |
| One serving contains | 378kcal | 79g | 0g | 8g | 3g | 0.5g | 0g | 10mg | 750mg |
| Standard value of nutrients | | 24% | | 13% | 6% | 3% | | | 38% |
※ % Standard value of nutrients : Ratio of guideline daily amount