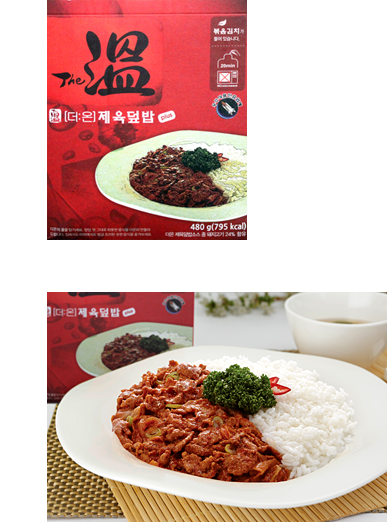 Characteristics
- You can feel the excellent and hot taste of pork cooked in the traditional way of Korea.
- You can have warm meals in about 15 minutes after pulling a string of theheating pack inside of the product.
- Their calories were lowered and instead nutrients were increased for health of busy people.
- You can have nutritious meals regardless of time and place.
- The heating pack can be reused for keeping warmth and fomentation(1-2 times).
- You do not need additional utensils as a squared container and spoon are already included.
- They can be stored for a long time at room temperature because of retort sterilizing treatment.
Composition
[The:On] Rice with Vegetable + [The:On] Jeyuk Sauce + [The:On] Fried Kimchi + Paper lunch box + Spoon
[The:On] Rice with Vegetable
Type of Food

Instant precooked food(resort food, sterilized product)

Weight

230g

Raw Ingredients & Content

rice 39.5%(Korea), carrot(Korea), corn, corn oil
[The:On] Jeyuk Sauce
Type of Food

Jeyuk sauce(resort food, sterilized product)

Weight

180g

Raw Ingredients & Content

pork 24%(Korea), onion(Korea), carrot, starch syrup, red pepper paste[dried red pepper powder, starch syrup, chili seasoning(China), flour(wheat : US, Australia), purified salt], soy bean sauce[defatted soybean(imported), flour(wheat, US), high fructose corn syrup, yeast extractionpowder], garlic, cooking wine, dried red pepper powder, corn oil, acetylate distarchadipate, sugar, mixed seasoning(wheat, soybean, milk), ginger, purified salt(Korea)
[The:On] Fried Kimchi
Type of Food

Cabbage Kimchi(resort food, sterilized product)

Weight

70g

Raw Ingredients & Content

Kimchi 83.40%{cabbage 83.0%(Korea), radish(Korea), dried red pepper powder(Korea), green onion, ginger, garlic, L-sodium glutamate, salt, sugar, flour paste}, corn oil(imported), mixed seasoning(wheat, soybean), sugar, garlic, perilla oil, dried red pepper powder
Nutrients
Nutrients per serving (480g)
| | | | | | | | | | |
| --- | --- | --- | --- | --- | --- | --- | --- | --- | --- |
| Nutrients per servings | Calorie | Carbohydrate | Sugars | Protein | Fat | Saturated Fat | Trans Fat | Cholesterol | Cholesterol |
| One serving contains | 795kcal | 137g | 6g | 23g | 17g | 3g | 0g | 56mg | 1,623mg |
| Standard value of nutrients | | 42% | | 42% | 33% | 20% | | 19% | 81% |
※ % Standard value of nutrients : Ratio of guideline daily amount